Zero Waste week
Posted on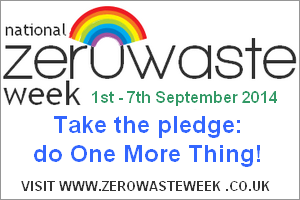 It is almost the end of Zero Waste week: did you take the pledge?
Thinking "Zero Waste" is a great way to reduce landfill waste but also save money: they usually go hand in hand.
Already in its 7th year, Zero Waste week's theme this year is "One more thing". Most people do their best to reduce their waste and recycle what they can but we all know we could do more. By taking a pledge, we can decide on a small thing to change and pledge to follow it through long-term (maybe even forever).
Here are some ideas taken from the Zero Waste website:
Ditch plastic carrier bags

Pack a zero waste lunch

Recycle your Tetra Pak cartons

Take clothes to a textile bank

Shop naked!

Declutter without landfill

Reduce food waste

Repair something

Spread the word!
By the way, naked shopping is buying without any waste or extra packaging: a naked cucumber as opposed to a naked customer!
At Really Eco Baby HQ we have pledged to declutter without landfill. What will you choose?
You can submit your pledge on the Zero Waste website (and receive their newsletter) but we would also love for you to let us know!
Or why not sending us picture of your Zero Waste week: who will have the smallest bin bag (or none at all??)