I planned a Baby Shower... Was it worth the hype?
Posted on
Hi, My name is Rosie. I work for Really Eco Baby part time, helping them run their socials and just being an extra pair of hands around the place really. I recently organised my sisters baby shower and I thought I would try my hand at writing a blog all about the process and whether or not I think it was worth the stress, so sit back, relax & enjoy my first attempt of a blog (Insert nervous laughter here).
Now I am almost certain the concept of a baby shower has made it's way over to the UK from the states, and I have always wondered whether it's just another over the top, unnecessary fandango or if it's genuinely just a lovely thing to do in celebration of the pending arrival of a newborn. I have attended a few baby showers over the last few years which have been wonderful events, so when we found out my older sister was having a baby (I am one of five sisters and she is the first to bring a grandchild into the mix, so it's a pretty big deal) I decided to take it upon myself to see what all the fuss was about and try my hand at throwing her a baby shower.
Here are some of my initial inspo pics that I found on pinterest, I wanted to steer away from the typical Blue/Pink theme, so I decided on greens, gold's and whites: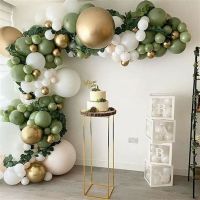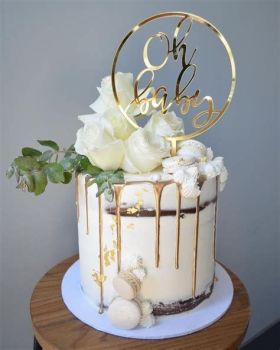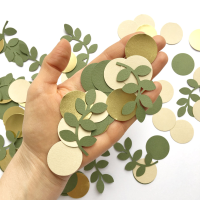 So I started by finding a venue, I decided on The Red Lion Pub in Manningtree. It's nice and local and they have a lovely upstairs function room that you can hire out with it's own staffed bar for just £75.00 for a whole evening. The reason I went for them is because they allow you to get in from Midday (as soon as they open) to set up your room and I just knew I was going to need all the time in the world. The manager was also incredibly helpful with all my silly minute detail questions and my last minute flapping (apologies again Laura).
Once I was set on the venue it was time to roll in the troops, being one of five sisters has its perks when you're planning events. So my Mum was given the role of sewing chiffon fabric to make me a curtain backdrop, Katie was put in charge of the balloon arch, Polly was put in charge of baking a gazillion cupcakes & cookies, Charley was put in charge of printing and cutting up games (More on this later) and Bex was told to put her feet up and enjoy having everything planned for her. (Insert envious sarcasm here).
I then went on a wild, 5 week long Facebook market place binge and bought anything I could that matched the theme I was going for, from green ivy garlands, to chalkboards, easels to hold my welcome sign, gold antique looking photo frames and an inexcusable amount more. Luckily for me I am also planning my rustic themed wedding for next summer, so I made sure everything I bought can be reused & recycled for that, so the guilt was alleviated ever so slightly.
So although I had roped in my sister Polly to do some baking for the event I really wanted to have some showstopper cupcakes on display and maybe even some biscuits too so I reached out to a good friend, full time mum AND marvellous baker who runs her own small business 'Gem Gem's Cakery' you can find her on instagram her handle is: gem.gems.cakery and she very kindly offered to help (Even during her own maternity leave) and created the most eye-catching, mouth watering, just stunning bakes and I could not recommend her highly enough to anyone out there wanting some professional treats for any occasion. I mean, just look at them!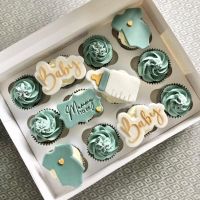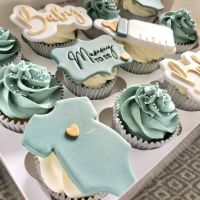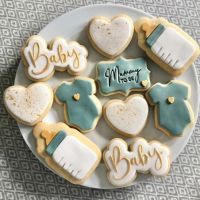 Another really amazing small business I must mention is one I found on Etsy, their handle is 'DIYPaperBoutique' they are based in Barcelona, and they have hundreds of different designs for events that are downloadable, fully editable and re-usable (Which you know by now we are all for). I went with their 'Lucy' range of 35 downloadable baby shower games.

They were so easy to edit and print, such beautiful quality and went down an absolute treat with all the guests as it made each game that bit more personable. My sister especially loved the 'Advice' cards and the 'Baby name' cards as they were able to spend some time the next morning reading through all the lovely notes of advise and the vast array of baby name suggestions which came in handy as they are yet to decide on a name. So DIYPaperBoutique if you ever happen to read this Blog, thank you very much for such a wonderful, helpful and time saving product!
The next thing I should mention is my DIY grazing table, now I know these are all the rage at the minute so I thought; Ok I'm going to give it a go, it will go brilliantly with the theme aswell as I can dress it with lots of greenery etc, and my goodness! What a success, it was SO easy to quite literally THROW together; the whole point is for it to look undone, rustic and ECO-FRIENDLY without lots of packaging, boxes & wrappers. I sent my (very patient) fiancé to Aldi on the afternoon of set-up with a list for fresh fruits, meats, chesses, crackers, nuts, chutneys and so on and he did not disappoint. I genuinely threw this grazing table together in bout 15 minutes. No complaints from the guests and everybody got stuck right in.
Anyway, before this blog post becomes five pages long. The moment you have all been waiting for; Did I manage to actually pull it off? Did it end up looking anything like my original inspo pictures and would I recommend you all throwing baby showers for either yourselves or your loved ones?
Pull it off? Yes, just about. It put me under a fair amount of stress trying to make it the best it could be, but I was really pleased with the outcome. Everyone that attended was full of praise and my sister and her partner were blown away, so overall I will take that one as a success.
Look like my inspo pics? Hmm not quite at the inspo pic standard, however it was all very much DIY, (I even roped my artsy friend Laura in to hand draw the welcome sign, thanks again Laura) BUT the overall look of the venue was really beautiful. The candles, fairy lights and green ivy garlands etc worked an absolute treat in setting a relaxing, classy and instagrammable vibe, but hey I will let you be the judge of the overall finished look: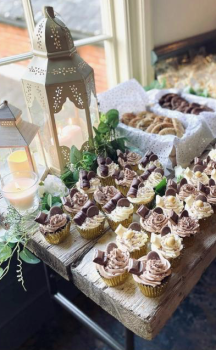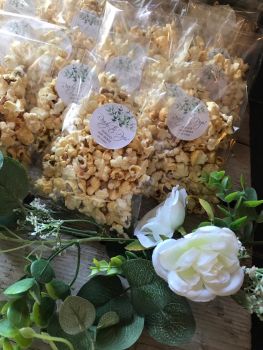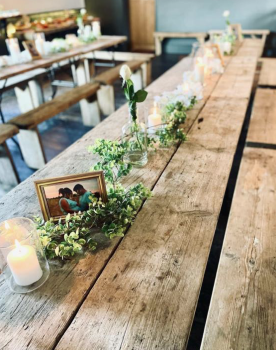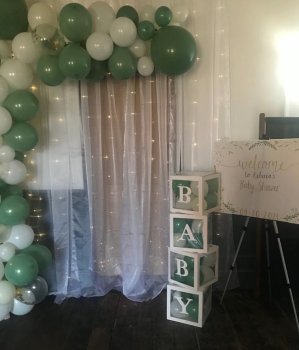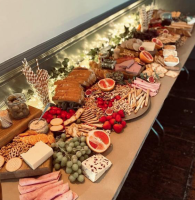 Would I recommend jumping on the bandwagon? Absolutely! It made me feel really good that I was able to do something so wonderful for my sister, to help her celebrate the beauty that is bringing a new life into the world and to bring all of her closest friends and family together to shower her with love, excitement and well wishes (oh and not forgetting baby names & words of advice).
It really was a memorable event and I urge anyone contemplating whether it's worth the stress, to absolutely go for it. Lean on the people around you, browse the web for everything & anything, utilise Facebook market place (reduce, reuse & recycle, it's our ethos after all) and just enjoy the process.
Thanks for reading, let me know in the comments what you think of the finished look and if you have any recommendations for others who may be starting the planning process.
All the best,
Rosie | Really Eco Baby