NapNap and The Really Eco Baby Shop are very proud to offer to its customers a range of Gossypium products. Back in 1998, Abi & Thomas Petit - its co-founders - pioneered the introduction of ethical textiles into the UK.
Two ideologists, they went in search of cotton that wouldn't harm the environment or exploit Indian farmers. As textile technologists, they were appropriately qualified to pursue their vision & together with Agrocel - a farmers' service centre - they developed a formula for growing & trading in cotton. They made sure they never lost sight of the Indian farmers' needs in creating a solution that would ensure their economic stability & also protect the environment.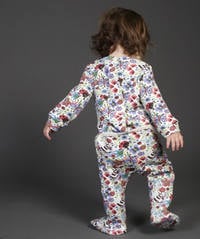 Gossypium effectively cut the middle men and trade only with known farmers, offering them a fair price for it. They also have the clients very much in their mind. All Gossypium products are designed in-house, are ethical, and are of the highest quality.
The sleepsuits and pyjamas need to be seen to be appreciated. The lilies, bugs and animals' designs are intricate, the organic & fairtrade cotton is soft and thick and it feels obvious when you touch them that they are clothes that can be washed again and again then passed down to other lucky babies and children.
We are sure the Gossypium range will be a great success here at The Really Eco Baby Shop.