Our Pledge for 2014
Posted on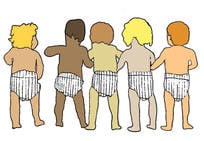 THE REALLY ECO BABY PLEDGE 2014
We offer a high quality service to our customer: this means good manners, answering all queries, dispatching your order as quickly as possible. Simply doing our very best to leave you with a smile on your face.
All our products are described truthfully.
We make sure that all our products are either fairly traded, organic, recycled or ethically made. If they are none of those, you won't find them on Really Eco Baby.
We use local printers and local stationery shops.
We always favour UK based companies.
We always work with companies who care about their products and the way they are made: both on an environmental and human level.
We reduce and re-use: we send our parcels in recycled boxes, re-use every scrap of paper, use recycled stationery...
We deliver our local parcels by bike (even in the rain and snow if we can bear it).
Feel free to let us know if we break our pledge: we are not superhuman but the above is not rocket science. We feel we have a responsiblity towards both our customers and our suppliers.